The Practice: Shipping Creative Work by Seth Godin
Shipping Creative Work.
The Practice by Seth Godin. I pre-ordered the whole boxed set of twelve books, plus some extra swag that Seth threw in there to make it a collector's item.
Am I supposed to feel special because there are only 399 other people in the whole world who got this deal? Do I need to feel better for spending over €200 on a set of books and going through a customs import hassle to get this package from The States to the EU? –I'm not sure if that was your intention, Seth, but it worked. I feel special, and I feel better.😷
I'm happy that I get to read The Practice after publishing my book at the beginning of November, because it helps inspire me to go forward and write the next one.
I'm happy that I published before reading The Practice, so I don't feel inadequate about the whole thing. But I did it — Shipped. Creative. Work. As per Seth, I put myself on the hook because it doesn't count if you don't Ship. It was Creative because I refuse to be a cog in a system looking to replace me. And it was Work because I kept doing it even when I didn't feel like it. Thank you, Seth. You helped me Ship this Creative Work.
A few snippets of wisdom to get you hooked:
Attitudes are skills.
Creativity is an act of leadership.
Passion is a choice.
Results are a by-product.
Be paranoid about mediocrity.
Create change.
Trust your self.
Repeat.
Staedtler should sponsor The Practice because it makes us burn the highlighters and increase their sales. This book is so packed full of wisdom that it's easier to inverse the usual activity — highlighting only the stuff we don't want to remember.
I'm happy I got a box of 12 books, so I get to be generous towards eleven remarkable people. If you don't get a copy from me, make sure to be generous towards yourself and gift yourself the gift of The Practice. It just might help you change your life. And don't forget — there's another book written for the same purpose:
Once again, let me Thank You, Seth. You helped me Ship this Creative Work. That was super generous of you. Also, the fact that you replied to my email.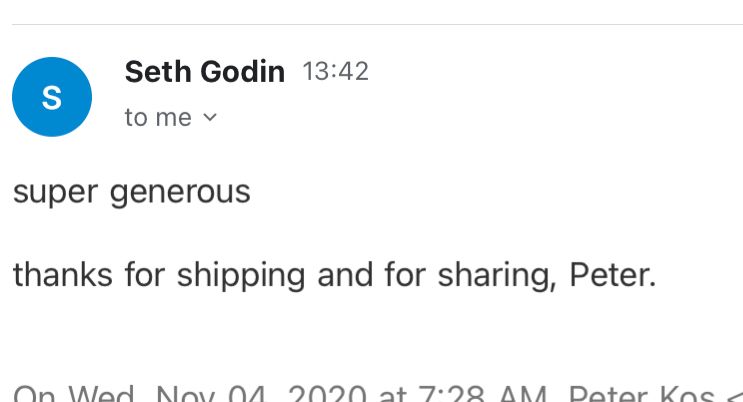 ---
---
CTA (Call To Action) if you want to help me out:
Click HERE to subscribe to my newsletter.
📬 Share this newsletter with those who might find value
🕶 if you read my book, please leave an honest Amazon review (especially if you received the free kindle version during the launch promo) — it would mean a lot 🙏
🦜 if you're on Twitter, let's follow each other
🔗 let's connect on LinkedIn
Share your feedback and get in touch via direct messages on Twitter, Facebook, or LinkedIn.